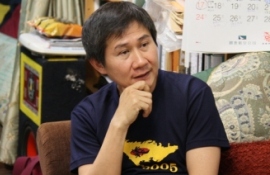 Wen-Pin Chen
Profile
Wen-Pin Chen was born in 1969, graduated from the Graduate Institute for Social Transformation Studies, Shih Hsin University, and works as movie director, documentary director, playwright, movie actor and stage actor.
2004 his 《Shihkang Story》 won the first-place Award in the Local Voice Film Festival, nominated by 40th Golden Horse Best Documentary and selected by Woman Film Festival. He also made documentary 《Water road-an one hundred year ditch》 and drama 《Galloping on the highway》 in 2004. 2005 He was the executive producer in Wen-Tang CHENG's film 《Blue Cha Cha》. 2006 his short film 《MSGAMIL-Once Upon Time》 won 41st Worldfest-Huston Int'l Film Festival and nominated by the Moscow Int'l Visual Anthropology Festival.
His performance in the 2009 movie 《No Puedo Vivir Sin Ti》 won Best Actor in the 2009 Taipei Film Festival, in the Tenth Chinese Media Awards, and was nominated for Best New Performer, Best Leading Actor in the 46th Golden Horse Awards, and for Best Actor in the Macau International Movie Festival. His screenwriting of the same movie also won Best Original Screenplay in the 46th Golden Horse Awards.
His performance in 《Wo De Ba Ba Shi Liu Mang》, aka My Father is a Rascal in 2010 was nominated for Best Actor in Golden Bell Award. He is also the leading actor in 《The Waste Land》. As a director, his first feature film Everlasting Moments was selected by 23rd Singapore International Film Festival, 12th Taipei Film Festival and 59th The International Film Festival Mannheim-Heidelberg.
2011, he worked as an actor in Tadashi Suzuki's La dame aux camellias and Qiao Zhong's Singer of Taipei. Now he continues his acting and is in the process of making a documentary The Nameless.

---
International professional experience

---
Certification